Hello Ladies and Gents,
I hope this post finds you well.  By way of introduction my name is Mick Doedee, I've been a member of Australia 1 for 3 years now and have volunteered myself to the organisation to take on portfolio 4 which is primarily involved with motorcycle safety.  To that end, I intend to send an email (this is the first in the series) to all Road Captains with some form of motorcycle safety message that I would hope you would take on board when planning a ride or riding you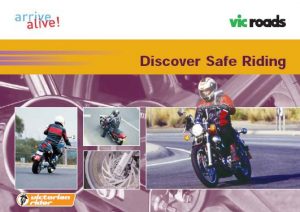 rself.
A lot of these safety messages will come via spokes (TAC) but I will endeavor to mix it up a bit.  Click on the Discover Safe Driving image to download the pdf.
I am fully committed to our Knights of the Round Table (KoRT) Tourament at Kryal Castle November 25-27 hoping to meet many of you there.
These emails will be sent out once every 2 months or so, you won't be bombarded with stuff.
I can be contacted at motorcyclesafety@rkifmcregion8.com or via phone on 0411 183 258, feel free to contact me with ideas or if you just want to chew the fat.
Yours in motorcycling
Mick Doedee
Team Leader Motorcycle Safety & Compliance
Tags: Resources